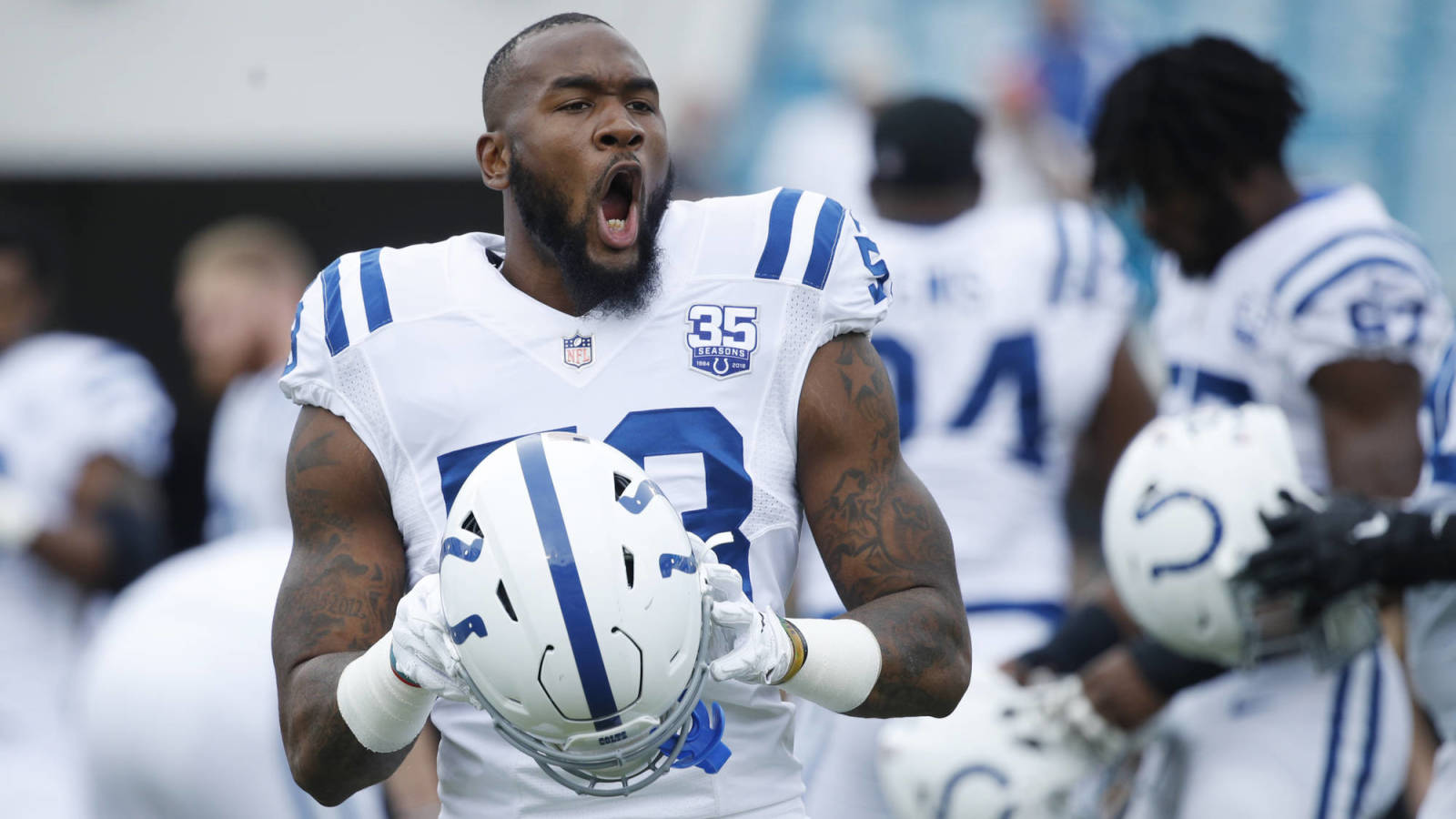 The AFC power structure entering recent seasons did not leave new contenders much room for optimism.
Following Peyton Manning's retirement, the Patriots capitalized on favorable circumstances and kept their bye streak going. They have been the unquestioned conference favorites for years. Rampant underachievement aside, the Steelers resided next in the pecking order.
But come September 2019, the landscape that may be as foreign as anything the AFC has seen this century. Suddenly, the Patriots have aged. The Steelers' issues may force not one, but two major breakups in one offseason. The Chiefs' time is coming. The Chargers' path looks friendlier. The Ravens' quarterback experiment may be further along, and there will be Browns playoff picks.
The Chiefs' surge to this year's No. 1 seed behind a 23-year-old soon-to-be MVP makes them the logical candidate to succeed the Patriots, but the team they will encounter this weekend may have them outflanked long term.
The Colts could have every AFC squad outgunned by the time teams' 2019 rosters are set.
Skipping stops on their rebuilding track, the Colts are in an unfathomable position based on recent events. The 2017 team deployed one of the NFL's worst offenses and defenses, and their prospects looked bleak before the 2018 draft. Josh McDaniels spurned them. Andrew Luck was not yet throwing mini-footballs in practices. Even going into this season, the team looked light on talent and figured to use 2018 as low-stakes development for its cadre of highly drafted prospects.
But what happened since the Colts embarked on their 10-1 run changed the AFC's complexion. In his second year as a general manager, Chris Ballard is on the verge of creating a monster no one saw coming.
Luck exited his injury hiatus in better hands and delivered a near-MVP-level season. Ballard's draft and savvy veteran additions place him as an Executive of the Year favorite. His roundabout arrival notwithstanding, Frank Reich looks like Indianapolis' best coach since Tony Dungy. McDaniels' defensive coordinator choice, Matt Eberflus, vaulted the Colts from 2017's No. 30 defense to 2018's 11th-ranked unit. Indianapolis' slew of first- and second-round picks — two helping to turn its beleaguered offensive line into a weapon — fortify the roster with long-term answers on rookie contracts.
Whatever happens Saturday in Kansas City, Indianapolis has a contention window open as wide as it has been since the early Manning days. A glance at teams' 2019 salary cap commitments reveals a major reason why.
Against a projected $190 million cap, 25 of the 32 teams stand to have between $10M and $70M in space before pre-free-agency roster cuts. The Raiders, Browns and Bills are projected to carry between $78M-$88M. Overseen by hot-seat/somehow still-employed GM Mike Maccagnan, the Jets are slated to hold $99M-plus.
The Colts reside in their own financial sector. They are predicted to have approximately $123 million available to them. The Browns made noise last year when they held over $100M. They were coming off an 0-16 season. 
A team that poses as a live divisional-round underdog has the most cap space in NFL history.
The Chiefs waited out Manning's Broncos tenure, the lengthy back end of Tom Brady's prime and the modern Steelers nucleus' never-realized potential. Now they must deal with a Colts team — one run by a top-shelf executive they let walk in 2017 — that may already be capable of unseating them. (Ballard was the Chiefs' director of football operations when he left the then-John Dorsey-led front office for Indianapolis.) Kansas City fired Dorsey less than six months later, promoting Brett Veach with Dorsey's previous right-hand man already in Indiana.
While Ballard has been a draft-centric GM, with Jabaal Sheard (three years, $25.5M) and Eric Ebron (two years, $13M) representing his top outside investments still on the team, he will have a unique opportunity to bolster his roster in two months. Considering the Colts' position, it would be almost irresponsible not to.
When Luck signed his extension in the summer of 2016, his $24.6M-per-year deal was an NFL-record contract. That is now a team-friendly pact, especially with Luck re-emerging from a possible career-ending (or, at least, a top-five-quarterback-ceiling-nullifying) injury to have his best season.
As the Seahawks, Eagles and Rams showed, the best time to stack a roster with talent comes when a quarterback is attached to a rookie contract. Luck's deal is far more expensive, but the rest of the Colts roster creates a similar opportunity.
With three seasons remaining on Luck's deal and All-Pro cornerstones Quenton Nelson and Darius Leonard locked into rookie accords until 2021, the Colts have multiple offseasons to load up on outside talent. Ballard must use this time to equip Luck with the kind of supporting cast Ryan Grigson failed to give him.
Grigson's mismanagement and Luck's injury trouble created by the fired GM's issues building an offensive line doomed Indianapolis' most recent contention chance. The Colts proved no threat to the Patriots before careening off course, costing Grigson his job.
Front-seven pieces, secondary cogs and possible T.Y. Hilton sidekicks will be available in March. Although it is not Ballard's style, Indianapolis can outmuscle anyone on this year's market. The Colts held plenty of cap space last year and bypassed big-ticket free agency. They should use some of this money to improve a team that was not supposed to be this good yet.
Patrick Mahomes' ahead-of-schedule wrecking spree changed the Chiefs' trajectory. But their cap situation is nowhere near as promising as the Colts'. More big expenses are coming (Dee Ford, Tyreek Hill, Chris Jones, and in 2020, Mahomes), and Veach's first attempt to build around Mahomes' contract — headlined by $16M-per-year Sammy Watkins and Pro Football Focus' lowest-graded linebacker, Anthony Hitchens ($9M AAV) — leaves some doubt about Kansas City's otherwise tantalizing setup. 
Beyond determining which team will extend its 2018 season by at least a week, Saturday's game may be an important chance for the Chiefs to stop the Colts before they become stronger. They already rank second in weighted DVOA, trailing only the Chiefs' figure (and not by much any longer). This is a scary proposition for the Chiefs, who have experienced diverse, well-documented issues against the Colts in January.
With so many burgeoning rookie talents, a cap space war chest and coaching staff continuity likely ensured for at least one more year (and, obviously, Luck reminding the football world of his capabilities), the Colts could look like a Super Bowl favorite when their next roster convenes for work.
Considering where they stood coming into the season, and even two months ago, it is staggering what the Colts could be when the 2020s begin.